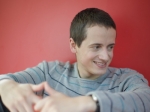 Graduated from 3d computer graphics at MDS, Auckland, New Zealand.
Worked in advertising and broadcasting industry before starting his first startup with partners from one of the first social communities in Slovenia.
CEO of 3fs, boutique Web/Mobile RnD lab, working for clients like Ericsson, Nokia, Nokia Siemens, Publicis, SignTrace while creating internal brands and spin off projects like Stripgenerator.com, Igrajmo.se and many others.
Biz developer for Toshl.com, latest 3fs spin off, working around the field of banking and billing system integration.
Great food, microbrewery and lately tea lover.
Member of Mobile Monday Slovenia organization committee. And mentor of numerous regional startups.